Trecce Capelli! Ecco le più cool
2022-08-12T15:26:23+02:00
Quante volte abbiamo guardato foto di acconciature stupende sperando di essere così brave da ricrearle sui nostri capelli? Quel giorno è arrivato! In questo periodo di quarantena il tempo a nostra disposizione è davvero tantissimo e perché non impiegarlo proprio esercitandoci a intrecciare i nostri capelli?
Qui ti speigo come facciamo le tre treccie classiche
Treccia Classica

Treccia Francese

Treccia Olandese
Parliamo di caldo e quindi di acconciature anti caldo le mie acconciature anti caldo praticamente prevedono quasi sempre una treccia,un intreccio i capelli che adoro le trecce quindi.Vado a mostrare tre tipi di trecce La prima è molto semplice perché è la treccia classica Però magari qualcuno non sa fare quindi è giusto partire dalle basi e far vedere anche le cose più semplici dopodiché vi farò vedere due trecce che sono tecnicamente praticamente identiche hanno veramente soltanto un passaggio  che le differenzia. La classica  la francese e olandese
Trecce di capelli alla francese
Realizzare una treccia alla francese spazzola i capelli per rimuovere nodi e grovigli poi separa una sezione di circa 8 cm nella parte alta della testa e dividila in tre cioc che uguali.
E dividi la intreccio che uguali inizia la treccia alla francese come se dovessi farne una tradizionale incrociando la ciocca a destra al centro.
Prima di proseguire prendi un'altra ciocca di capelli dalla zona che può includere nella treccia e inserisci la nell'intreccio successivo
Assicurati di appiattire eventuali protuberanze in modo che l'acconciatura risulti liscia e ordinata proseguo incorporando altri capelli a ogni nuovo intreccio Ripeti l'operazione Finché la treccia non è finita.
Infine legala e ammira il risultato.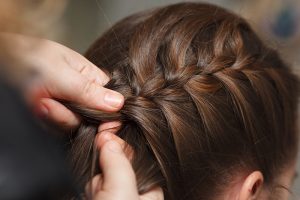 "If you want to relax, watch the clouds pass by if you're laying on the grass, or sit in front of the creek; just doing nothing and having those still moments is what really rejuvenates the body…".